COMCIT™ is: Cryo Oxygen Microchannelling Collagen Induction Therapy. It is the most effective and advanced skin rejuvenation system yet, because it offers four simultaneous modes of action all designed to stimulate Collagen production.
Instantly smooth, fresh, firmer, plumper and more youthful skin.
Reduced lines and wrinkles.
Tauter, more rejuvenated skin.
Promotion of new Collagen growth.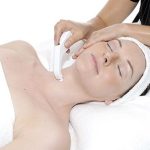 The most effective and advanced skin rejuvenation treatment yet, tackling lines, wrinkles and pigmentation.
Enjoy a full cleanse and gentle exfoliation, followed by our ground-breaking COMCIT treatment, using Cryo Oxygen and Micro Rollers to infuse the skin with a potent Infusion, tailored to tackle your skins concerns and stimulate collagen production.
Then lie back while your therapists applies a Crystal Clear face mask to suit your skin type, giving you an extra hit of hydration, firming and lifting.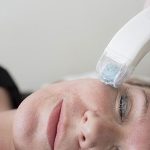 Crystal Clear's most intense hydration treatment yet, giving red carpet ready results.
The H20 Glow facial delivers freezing cold oxygen throughout the epidermis to nourish and invigorate skin cells, while the COMCIT roller allows Hyaluronic Acid to reach deeper dermal layers via micro-channels; plumping and re-balancing the skin from the inside out.
The result is brighter, fresher, hydrated skin that glows with a youthful radiance.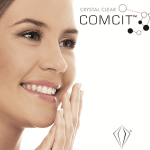 Enjoy a Beauty Flash microdermabrasion treatment to your face and neck before your Frozen Facial.
The right to age well – whatever your background, race, gender, interests, skin type – is everyone's. We live in exciting times, an era when it's never been so acceptable to just be yourself. It's about taking care of ourselves more, loving ourselves more, being more comfortable in our own skins – and that skin looking and feeling the best it can.